14
We explore the larger issues of our day
11
of beauty, truth, justice and duty
08
We promote thoughtful discussion
03
mutual respect and the joy of discovery
02
We invite the intellectually curious student
01
to think well about the meaning of life
We Recommend
THIS IS OUR CITY
We love the This is Our City films by filmmaker Nathan Clarke. What do faith and creativity, business, education and urban renewal have in common? A lot, as it turns out. For all of Nate's films, go here: https://vimeo.com/thisisourcity or here: https://vimeo.com/fourthlinefilms
One of only eleven Master Penmen in the world, Jake Weidmann is a craftsman of the highest order. https://vimeo.com/62116940
This piece about gardening and farming in depressed Detroit offers a completely different way of thinking outside the box: https://vimeo.com/59474340
JOHN LENNOX
Last year, six students, Richard McClintock, and I visited UVA to hear Oxford mathematician John Lennox give a lecture in Cabell Hall entitled "Does Science Bury God?" Our students enjoyed the talk, and they represented Hampden-Sydney well by dressing for the occasion, prompting one UVA student to inquire if perhaps they were pledging a fraternity. (See photo.) But enough about bow ties–if you would like to hear the talk, click here: http://vimeo.com/39369218
KEN MYERS AND MARS HILL AUDIO
Ken Myers was the former editor of both NPR's Morning Edition and Comment Magazine before he founded the always thoughtful Mars Hill Audio Journal. Ken always surprises us with his diverse interests and seemingly unending reading list. Last year, he spoke at Hampden-Sydney on the topic of law and personhood in a lecture co-sponsored by Cogito, the Wilson Center, UPLS and the Pre-Law Society. For more on Ken Myers and Mars Hill Audio, see http://www.marshillaudio.org.
VERITAS FORUM
Check it out here: http://www.veritas.org
SAIL VENTURES
Our friend and fellow Christian Study Center director, Dr. Edward Dixon of Emory, runs this sailing/study combo, a unique mixture as far as we know. We have heard him speak, and we hope to send students out on the water with him! Find it here: http://www.sailventures.com/about-us/
BOOK AND FILM CRITIC DREW TROTTER
Dr. Drew Trotter was the Executive Director for the Center for Christian Studies at UVA for 22 years before stepping down to form a Consortium of Christian Studies. Drew is a film critic and writer who speaks internationally on books, film, and culture. Recently, he gave a lecture at Hampden-Sydney titled "The Academy Award Nominees for Best Picture and What They Tell us about America." Perhaps only Drew can manage a such a comprehensive understanding of what made the nominee list and and then train-spot the trends, ideas, techniques, and cultures that they reveal.
For Drew's book review on a new book on Scientology, see here: http://studycentersonline.org/resource/clarity-and-cults/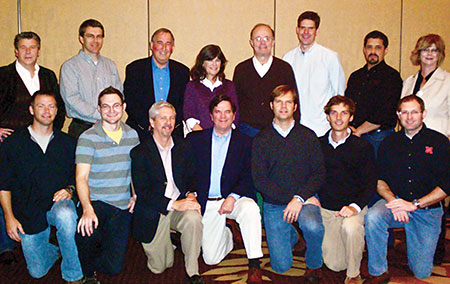 Directors of the Consortium of Christian Studies Centers